When I was little, I loved Flintstone Creamsicle Push Pops! I have made many keto recipes with the Creamsicle theme, including Keto Creamsicle Push Pops (which my kids love making!) and I thought it was time to make delicious Keto Creamsicle Cupcakes!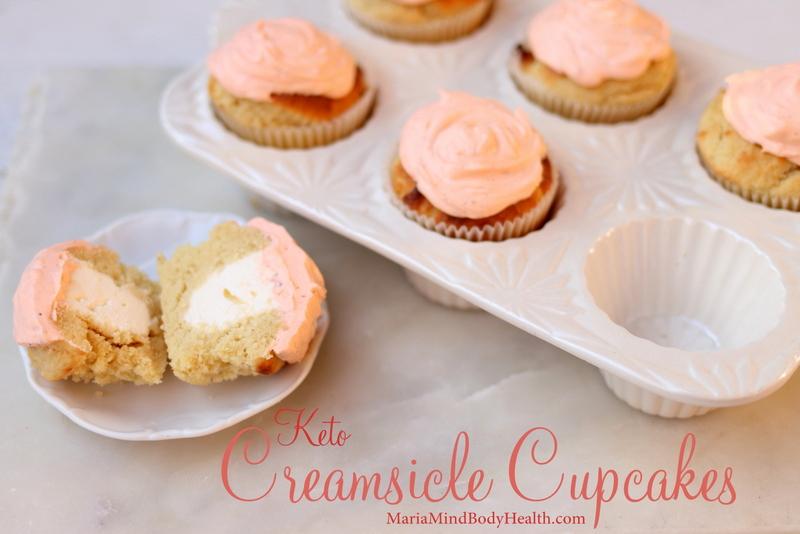 Everyone loves my Keto Little Debbie Cupcakes from my book Keto Comfort Foods (which is on sale for only $14 and makes a great holiday gift!) so I adapted that recipe and make them orange flavored with a hint of vanilla. I like these even better than the Little Debbie recipe, but that's because I am a weirdo and am not a huge fan of chocolate! lol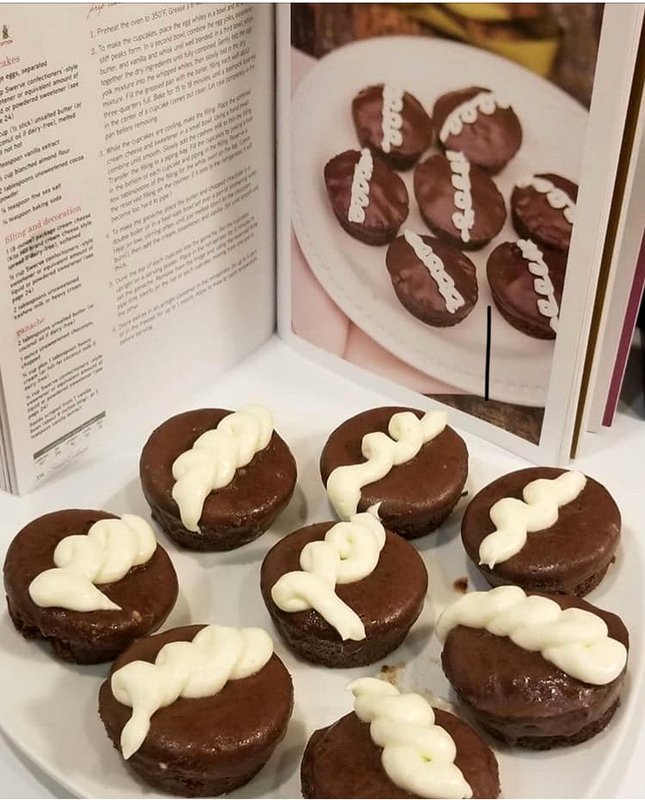 Creamsicle Cupcakes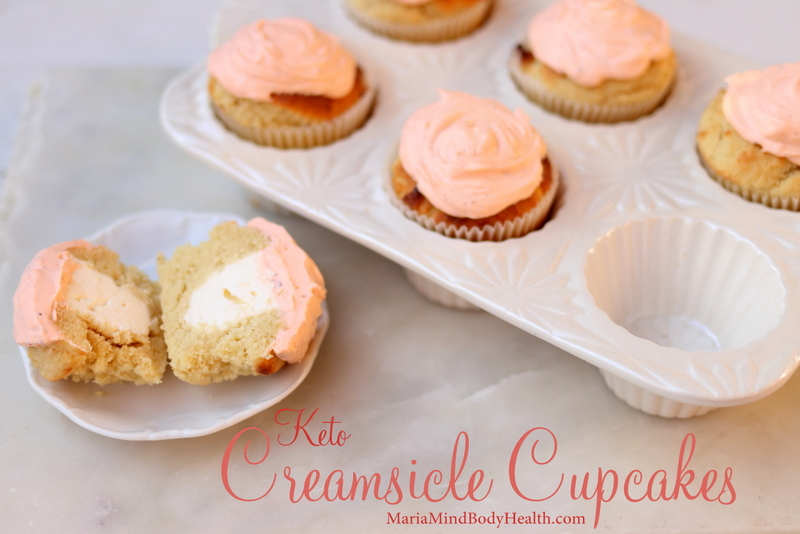 Preheat the oven to 350°F. Grease a 6-well jumbo muffin pan.
To make the cupcakes, whip the egg whites until stiff peaks form. In a second bowl, combine the egg yolks, SWERVE, butter, and extracts and whisk until well blended. In a third bowl, whisk the dry ingredients together until well blended. Gently fold the egg yolk mixture into the whipped whites, then slowly fold in the dry mixture. Fill the pan with the batter, filling each well about three-quarters full. Bake for 15 to 18 minutes, until a toothpick inserted in the center of a cupcake comes out clean. Let cool completely in the pan before removing.
While the cupcakes are cooling, make the filling. Place the softened cream cheese and SWERVE in a small bowl. Using a hand mixer, combine until smooth. Slowly add the almond milk to thin the filling. Transfer HALF of the filling to a piping bag. Fill the cupcakes by poking a hole in the bottom of each cupcake and piping in the filling.
To make the frosting, add the vanilla beans, orange extract and orange food coloring to the rest of the filling. Use a knife to smooth over each cupcake.
Store extras in an airtight container in the refrigerator for up to 4 days or in the freezer for up to 1 month. Allow to thaw to room temperature before serving.
Nutritional Information:
387 calories, 37g fat, 9g protein, 3g carbs, 1g fiber
3.4.3177
"Last winter I was tired all the time, migraines almost daily and a size 12/14 & hated all pictures of me. I felt awful. I knew it was time for a change! I had gotten a new puppy and was reading all I could on what to feed her and keep her healthy! That's when I knew I needed to start taking care of me! I started looking into Paleo and then saw more about keto and decided to try it! I went to a integrative medicine doctor and got labs done…my liver enzymes were off, showing a fatty liver, thyroid levels off, low in Vitamins B and D, etc. I was kind of a mess!
I started keto and thankfully a month into it I found the Emmerich's and read their book Keto: The Complete Guide to Success on the Ketogenic Diet! I bought all of Maria's cookbooks and started cooking amazing keto recipes! I ate better and more delicious food then I ever have! In 6 months of doing keto I have lost 50 lbs and down to my goal size 4!
My migraines went from daily to maybe 1 or 2 a month during my cycle and I just had labs again and all were back to normal!! My good cholesterol even went up!! I truly believe it's keto and getting the inflammation out of my body that has helped my migraines and made me feel awesome and back to normal with all my labs! This is a lifestyle that I love and never want to change! Thank you Maria for all your amazing recipes that make this lifestyle so fun and amazing!
I never thought in 6 months I could be where I want to be and in my goal size! I can't wait to see what I look like after a year of keto!" – Joni