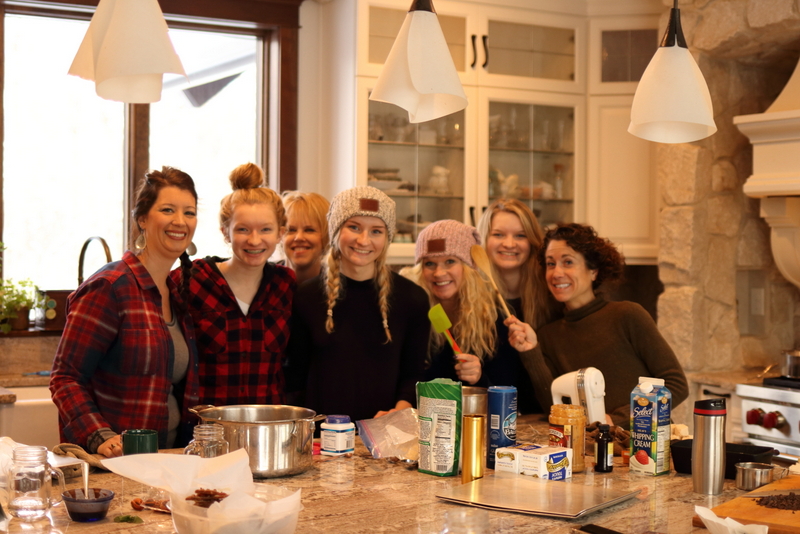 I often like to invite my friends over to make keto christmas cookies and keto christmas fudge in the beginning of December so we can have delicious keto treats during the holidays!
This year has been busier than most so we ended up just talking with very little baking going on! We still managed to make a few easy recipes like this Keto Eggnog Fudge!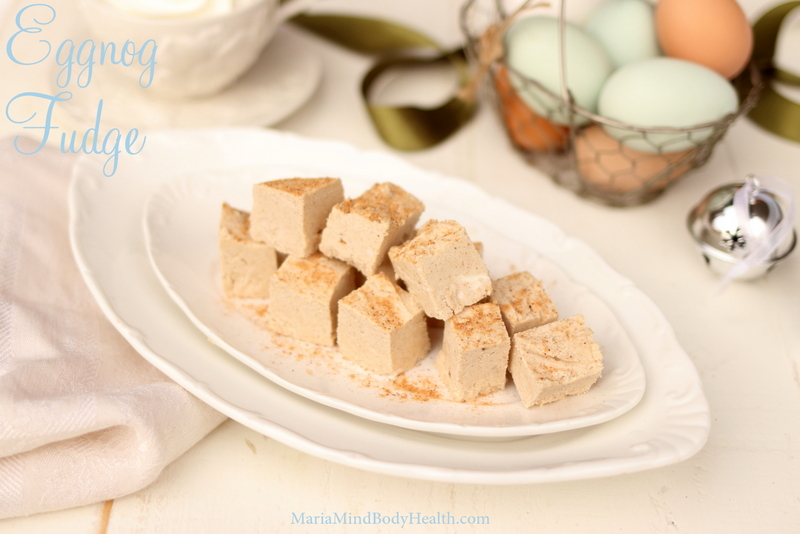 EGGNOG FUDGE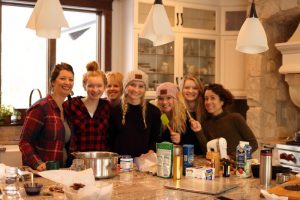 1 cup (2 sticks) butter, melted
¼ cup Swerve confectioners, or equivalent
8 ounces cream cheese (about 1 cup), softened
1 teaspoon rum extract
1 teaspoon nutmeg
¼ teaspoon fine sea salt
Line an 8-inch square baking pan with parchment paper, allowing the paper to drape over the sides for easy removal.
In a small medium bowl, place the melted butter, natural sweetener, cream cheese, extract, nutmeg and salt. Using a handheld mixer on low speed, combine until smooth. Taste and adjust sweetness to your liking.
Pour the mixture into the prepared baking pan and refrigerate overnight.
The mixture will thicken a lot. Remove from the pan, peel away the parchment, and cut into 1-inch cubes.
Store in an airtight container in the fridge for up to a week or in the freezer for up to a month.
NUTRITIONAL INFO (per serving)
calories
203
fat
21.9 g
protein
1.6 g
carbs
0.6 g
fiber
0 g
91% 7% 2%
3.4.3177
"Hi Maria, When I was in my mid 30's, my doctor at the time told me that my metabolism was pretty much zero.  However, if I did not lose the extra weight by the time I turned 40, I would be that way for the remainder of my life. By my mid 40's I had a total hysterectomy, Gallbladder removed, Fibromyalgia, and now diagnosed with Hypothyroidism causing me to become dependent upon Hormone Replacement Patches, Nexium for Gerd, Pain meds, Synthroid, and now High Blood Pressure Meds. I was becoming a mess and the weight kept piling on.  I became even more overwhelmed with fear because of my family history with Heart Disease and Diabetes.  I knew I was going down that same road. But everything I tried, everything plan I paid for, all the tears and frustration to lose the weight, did not work.
My father died at 67 and I saw it coming closer and closer.  Fast Forward to May of this year (2018) I was in bed sick, weighting in at 255.8 pounds.  Even know I have a hard time admitting that my weight had reached that high.  I cried and begged for help.  I happened to see a post on Facebook about Keto and that same day my daughter sent me a text asking if I had heard if Keto.  I knew nothing about this way of eating but I started researching everything I could find.  I felt I had just maybe been given one more chance but then the words of that doc came back to me … I was now 55 and there was no Hope past 40 to lose weight but I was willing to try.
18 pounds came off pretty quick and that gave me the incentive to keep researching and changing my way of eating.  I started averaging a 10 pounds down a month.  Within 4 months I was no longer taking Nexium, I was OFF High Blood pressure meds, and was down 40 pounds.  I felt like I was in a dream and that something was really working.  It's been almost 6 months now and I finally hit my 60 pounds down mark.  CW is 195 Yes, when I went into ONEderland I screamed so loud I scared my husband.  LOL.
My goal weight is 150 and I will get there.  I now have an appointment with my Endocrinologist with the goal of coming off my last meds for Thyroid.  I will be totally DRUG FREE and PAIN FREE.  Also, I was having so much knee pain I was sure that a knee replacement was in my future. Nope…It's all gone and by the way, my blood work was great and my Glucose was 89.  I now have so many people wanting me to share my story and I have a coworker feeling like weight lose was over for her.  I am happy to share, she is down 30 pounds and I have several family members now coming in board.  Keto is not a diet, it's my way of life and everyday I become more thankful for my new life.  One huge goal, I have a brother who was recently diagnosed with Parkinson's Disease.  I have been trying to research if Keto will help him.  I have a sneaking suspicion it will. Thank you so much Maria!  Sincerely, Karen"
Start your path to Healthy Healing today!