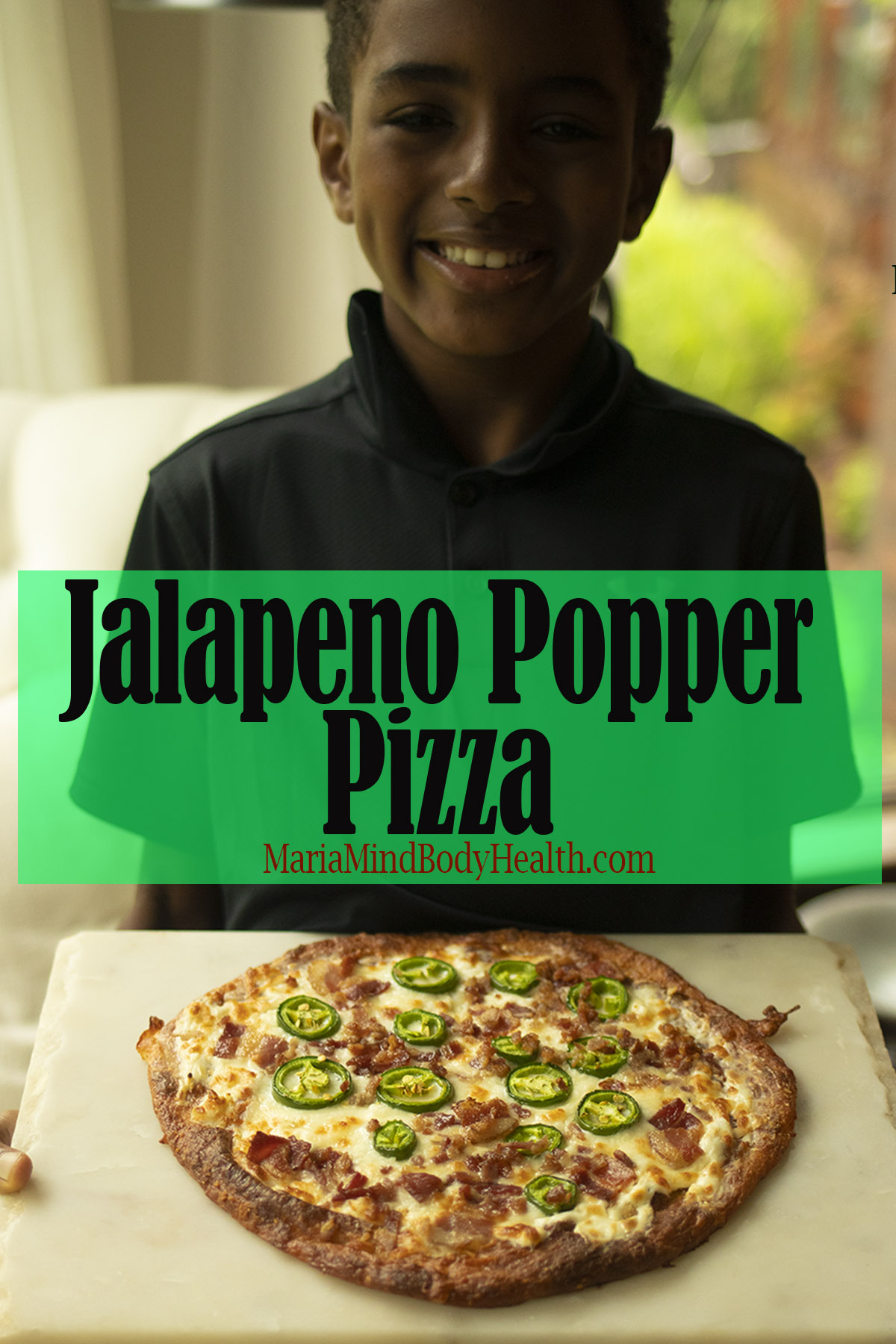 I usually don't like spicy foods, but I love my Jalapeno Poppers wrapped in bacon! I also LOVE my Carnivore Pizza Crust!
Why not marry the two?
If you are a carnivore, you can make this keto pizza without the Jalapenos and it is totally carnivore!
I also love to dip my Bacon Wrapped Jalapeno Poppers in Ranch Dressing and the Jalapeno Popper Pizza also tastes great dipped into Ranch! I use and love Primal Kitchen Ranch Dressing! It is dairy free, sugar free and only made with the best ingredients!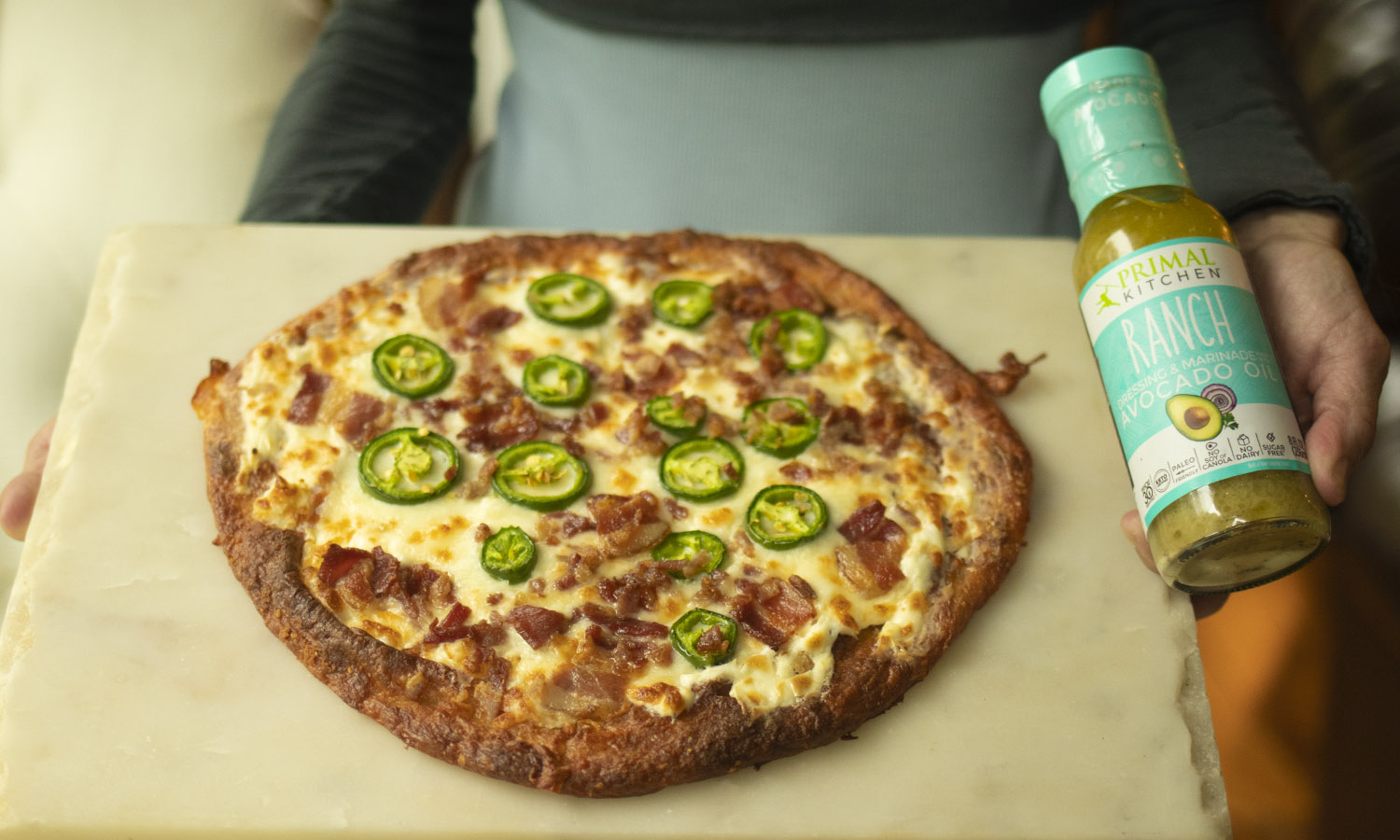 The best part of this Jalapeno Popper Pizza is the BACON! I wish I would have put more bacon on it!
It is hard to find bacon without sugar and if you do, it is really expensive! That is why I order Pederson's Farms bacon!
If you want to get my favorite keto BUNDLE of meaty goodness from Pederson's Farms, you get a great deal!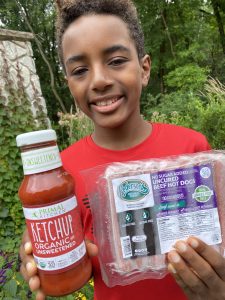 Maria's Mind Body Health Bundle contains 10 of Pederson's Natural Farms Whole30 Approved No Sugar Added products. Included with this bundle is:
1 package No Sugar Added Hickory Smoked Uncured Bacon
1 package No Sugar Added Smoked Kielbasa
1 package Uncured No Sugar Grass Fed Added Beef Hot Dogs
1 package Fully Cooked No Sugar Added Mild Breakfast Sausage Links
1 Uncured No Sugar Added Half Ham, Boneless and Spiral Sliced
1 package No Sugar Added Italian Ground Sausage
1 package No Sugar Added Chorizo
1 package No Sugar Added Uncured Old World Kielbasa
1 package No Sugar Added Uncured Hot Dogs (Made with Pork & Bacon)
1 package 100% Grass Fed Organic Ground Beef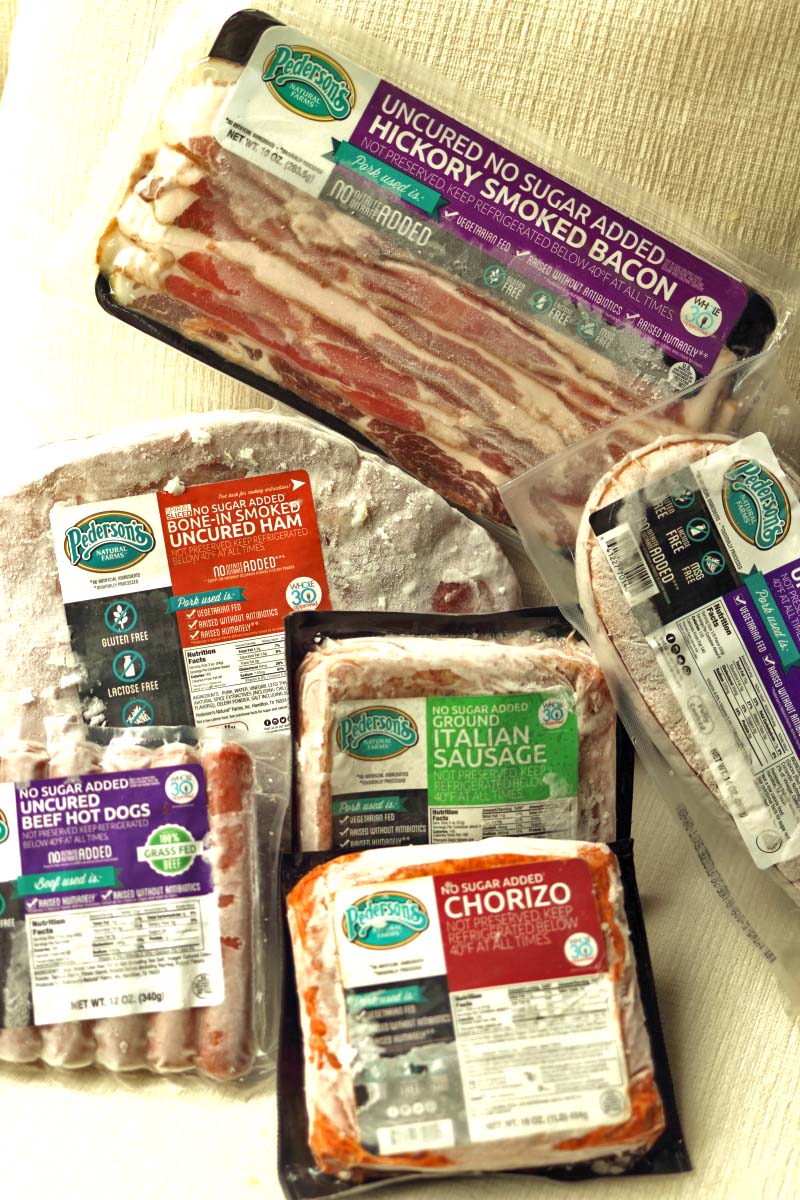 Jalapeno Popper Pizza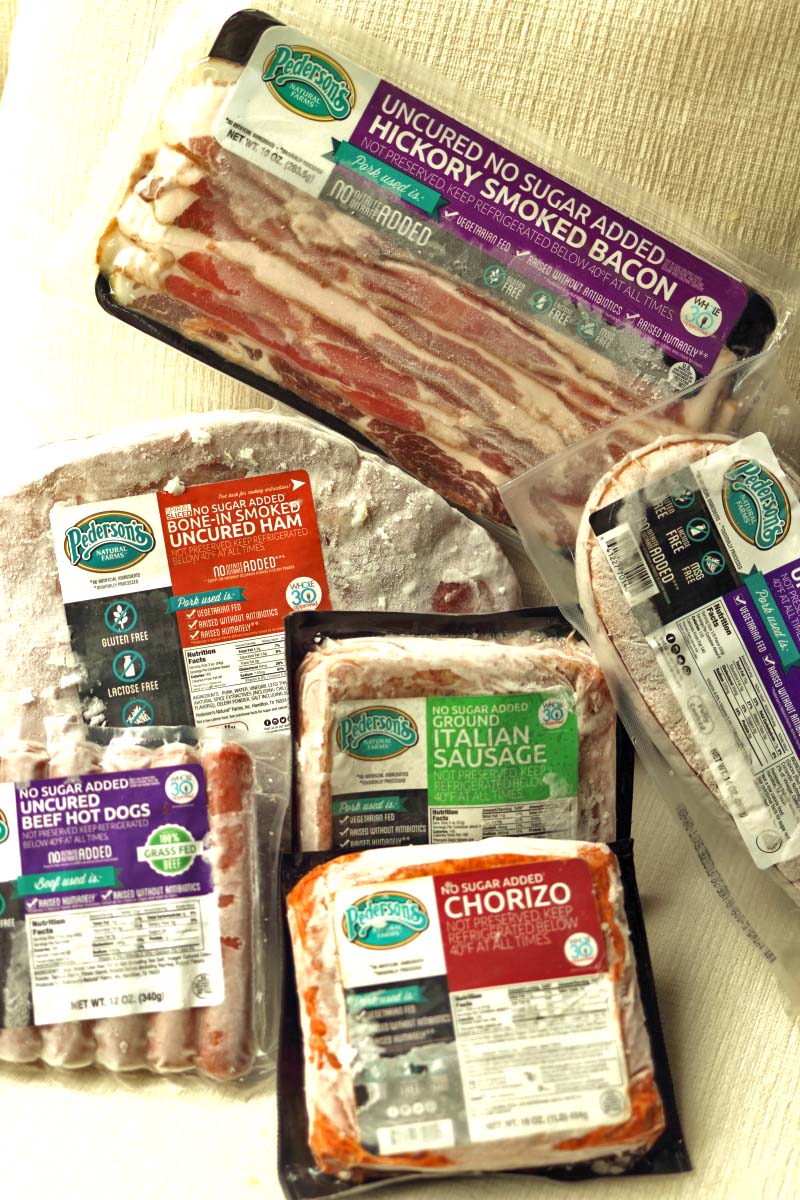 If you have a pizza stone, place it into the oven. Preheat oven to 425 degrees F.
To make the dough, place the mozzarella and the butter in a heat safe bowl and microwave for 1-2 minutes or until the cheese is entirely melted. Stir well.
Add the powered pork rinds, egg and salt and using a hand mixer, combine well.
Put the dough on the greased piece of parchment paper on a flat baking sheet and pat out with your hands to make a large round circle.
If you are using a pizza stone, transfer the pizza on the parchment and slide it onto to the hot pizza stone in the oven by sliding the parchment and pizza from the baking sheet onto the stone. Bake for 5 minutes or until the crust starts to get a little golden.
Meanwhile, place the diced bacon into a cast iron skillet. Cook over medium high heat while crumbling often, for about 5 minutes or until slightly crisp. Remove from heat. Transfer to a paper towel-lined plate. Set aside.
Remove pizza crust from oven. Spread the softened cream cheese all over the top of the crust and top with cheese, diced bacon and slices of jalapeno.
Place back into the oven and bake the pizza until the cheese is melted, about 10 minutes. Remove from oven and serve with Primal Kitchen Ranch Dressing if desired.
Store extras in an airtight container in the refrigerator for up to 3 days. Reheat slices on a baking sheet in a preheated 350°F oven for 5 minutes or until warmed through.
Nutritional Information:
527 calories, 41g fat, 37g protein, 2g carbs, 0.3g fiber