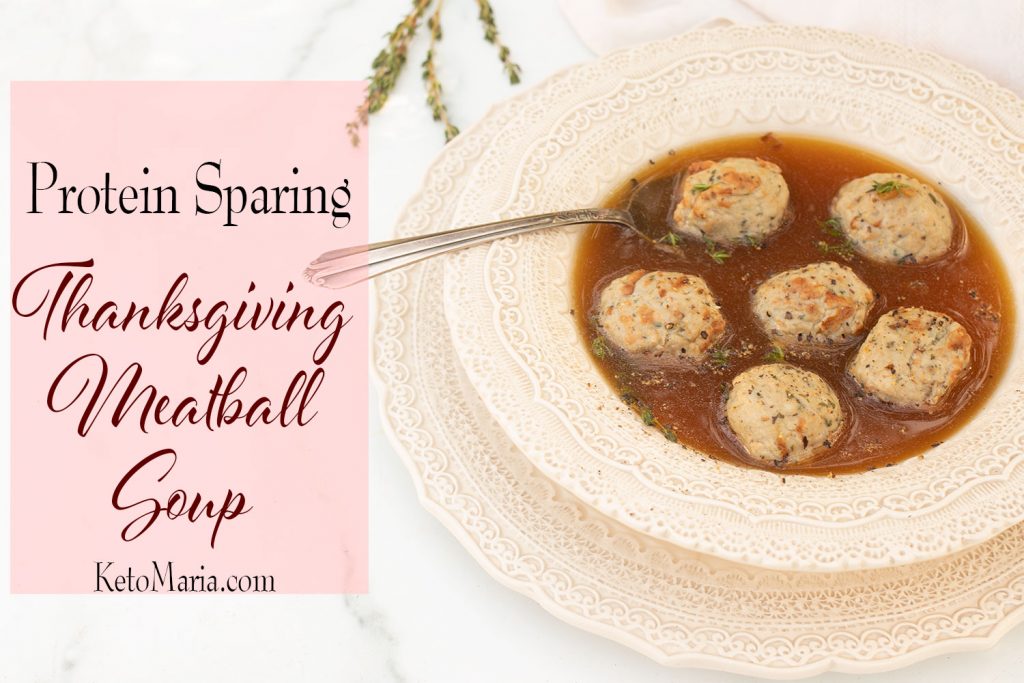 If you are craving Thanksgiving turkey but don't want to spend hours roasting a whole turkey, you must try this protein sparing meatball soup! It is so comforting and it makes great leftovers for easy meals!
My protein sparing Thanksgiving Meatball Soup is high in protein and low in fat! Perfect for Pure Protein days!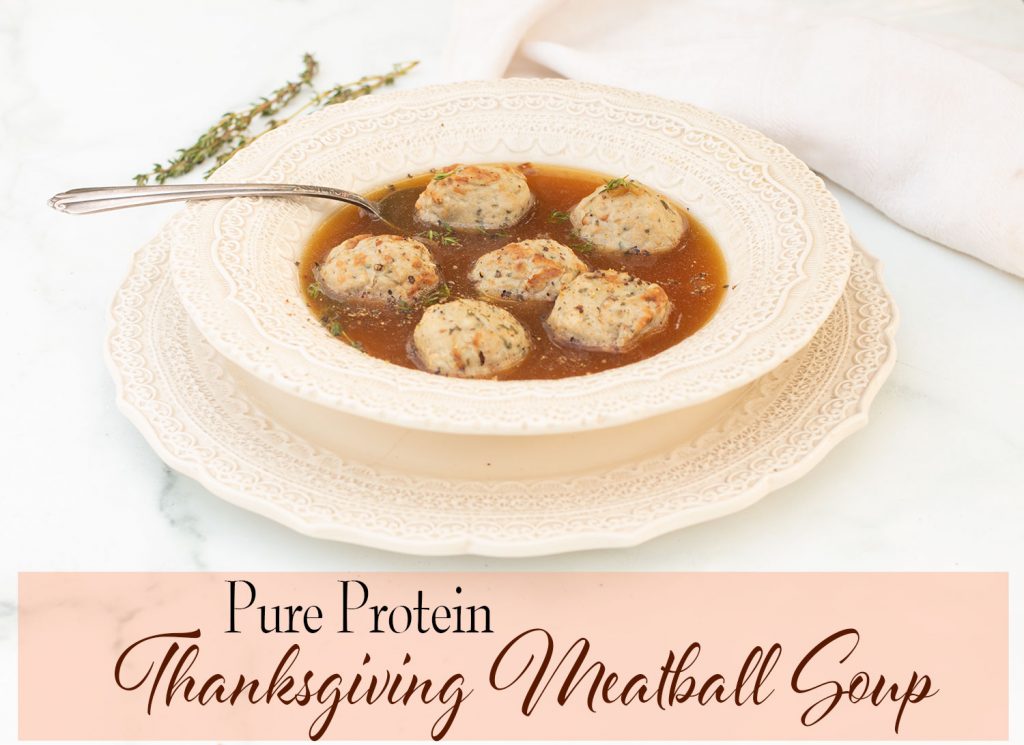 Adding a little water or other liquid to the meatball mixture helps bind the fat to the meat when cooking, which creates a moist cooked meatball.
To make my protein sparing meatballs extra delicious, I've used a couple tablespoons of Kettle and Fire Chicken broth to add both moisture and the most delicious flavor.
Because bone broth can be regarded as a liquefied form of the important components of bones, the medicinal benefits of bone broth are attributed to the exceptionally high levels of minerals and amino acids. In fact bone broth can be considered both a high quality multi-mineral and collagen supplement. Great for keeping you healthy and strong!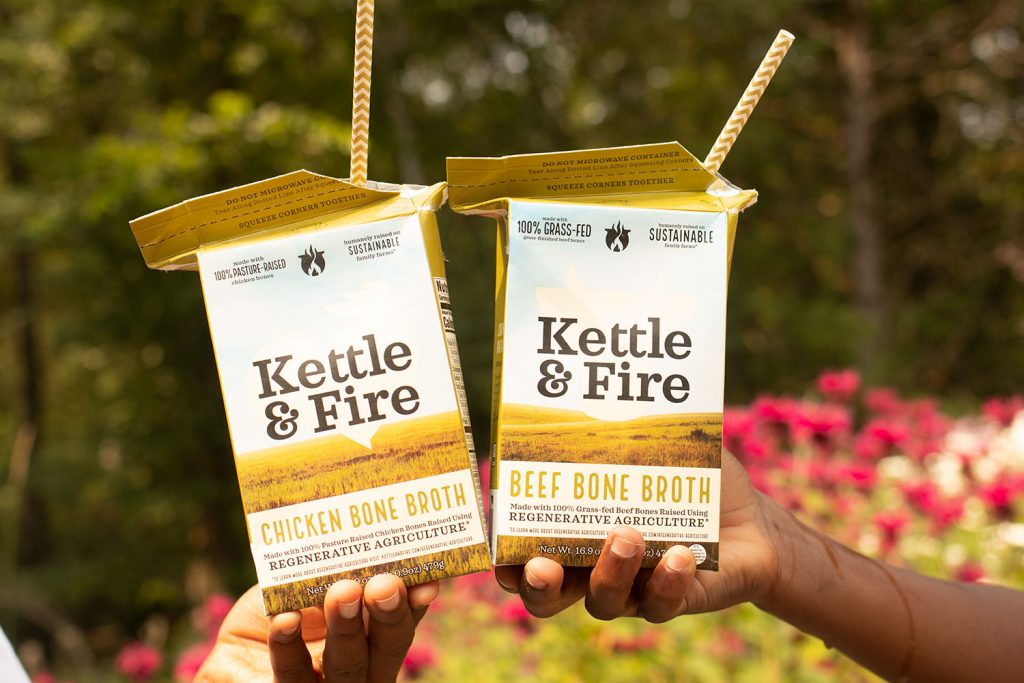 I personally only use Kettle and Fire bone broth because of it's exceptional flavor and top quality ingredients!
This may sound weird, but my mother loves Kettle and Fire broth so much, I gift a huge box of this broth to her when I visit her during the holidays! It is the gift that keeps on giving!
Special Offer for our followers! 20% off your entire order by using coupon code KETOADAPTED
And get your keto friend a box too!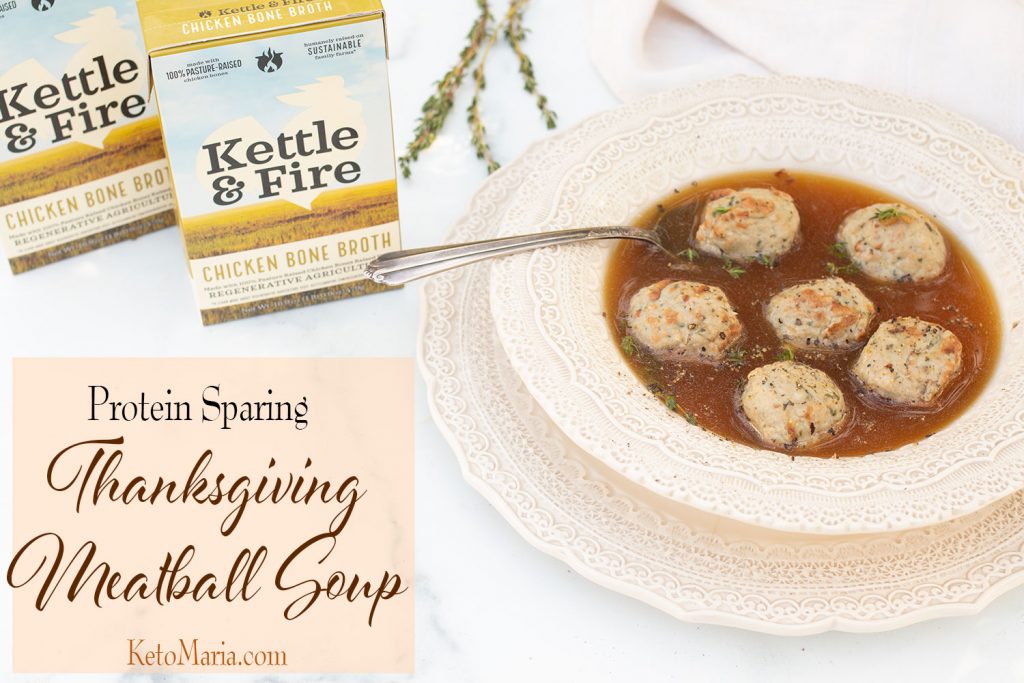 THANKSGIVING TURKEY MEATBALL SOUP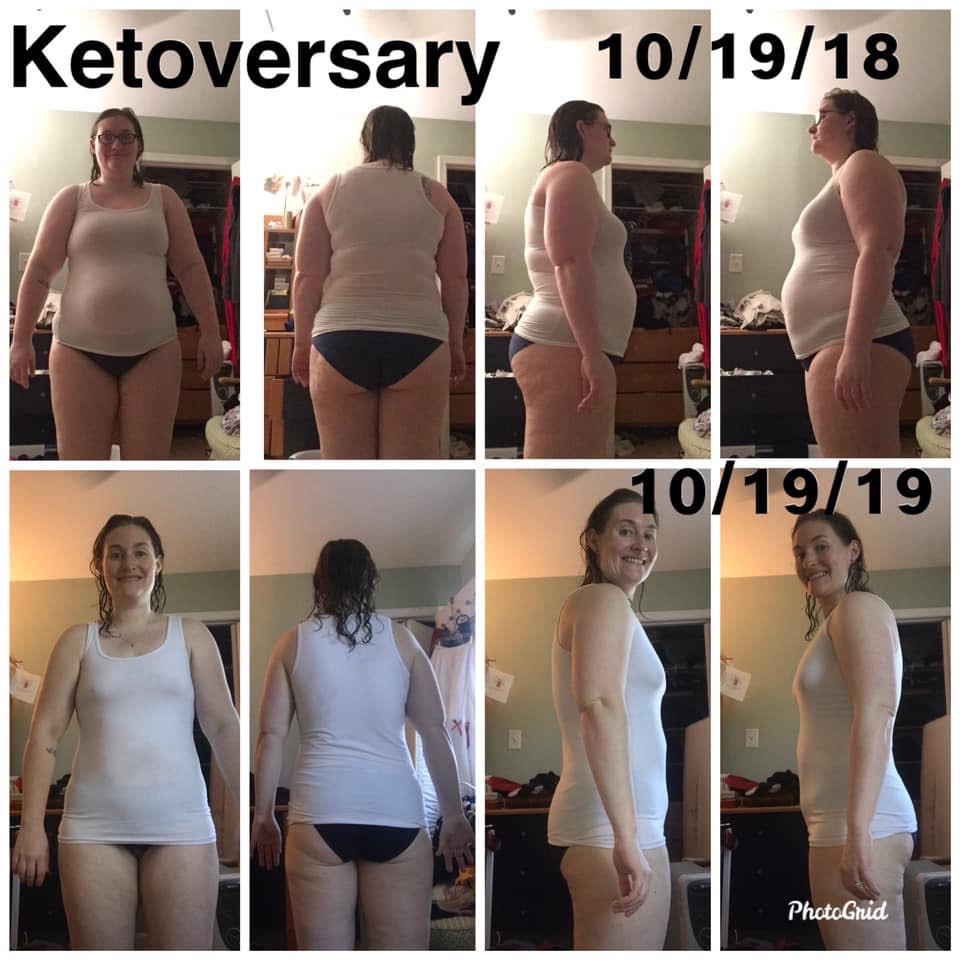 Preheat the oven to 425°F.
Make the meatballs: Heat the oil in a skillet over medium heat. Add the onions and garlic and season with the salt; sauté until the onions are translucent, about 5 minutes. Transfer the onion mixture to a small bowl and set aside to cool.
Combine the ground turkey, broth, seasoning, and egg in a large bowl. When the onion mixture is no longer hot to the touch, add it to the bowl with the meat mixture and work everything together with your hands.
Shape the meat mixture into 1¼-inch balls and place on a rimmed baking sheet. Bake for 15 minutes or until cooked through.
Meanwhile, make the soup: Heat the oil in a Dutch oven over medium-high heat. Add the sliced onions and ¼ cup broth and sauté for 5 minutes, stirring often, until golden brown. Add the broth and seasoning and boil for 10 minutes or until the onions are very soft. Taste and add salt, if desired. Ladle the onion broth into bowls and add the meatballs.
Garnish with freshly ground pepper and thyme if desired.
Store in an airtight container in the refrigerator for up to 5 days or freeze in an freezer-safe container for up to a month. To reheat, place the soup in a saucepan over medium heat for a few minutes, until warmed through.
Nutritional Information:
220 calories, 8g fat, 33g protein, 3g carbs, 0.4g fiber
P:E ratio 3.1
3.4.3177
"PSMF (protein sparing modified fasting) days work!! In May I had been at a weight loss stall for 15 months. I have been eating this keto lifestyle for 4 1/2 years. I took measurements in early May and again today. In 4 1/2 months of doing Maria Emmerich's PSMF days 2 days a week plus trying to lower my fats a little on normal keto days, I lost 16 lbs and 7". Most of the inches were lost in my torso with 1" in my thighs. And I lived in an RV for 3 months with limited cooking/baking options and not as many food options.
My husband took pictures of me in it this morning. Here are some before pictures and some recent ones. I'm still working on losing 15-20 lbs and building muscle while lowering my fat percentage. Thank you so much Maria Emmerich for changing my life." Twila
Most people I consult are doing keto totally wrong. Get fast results with the my NEW Keto Packages!