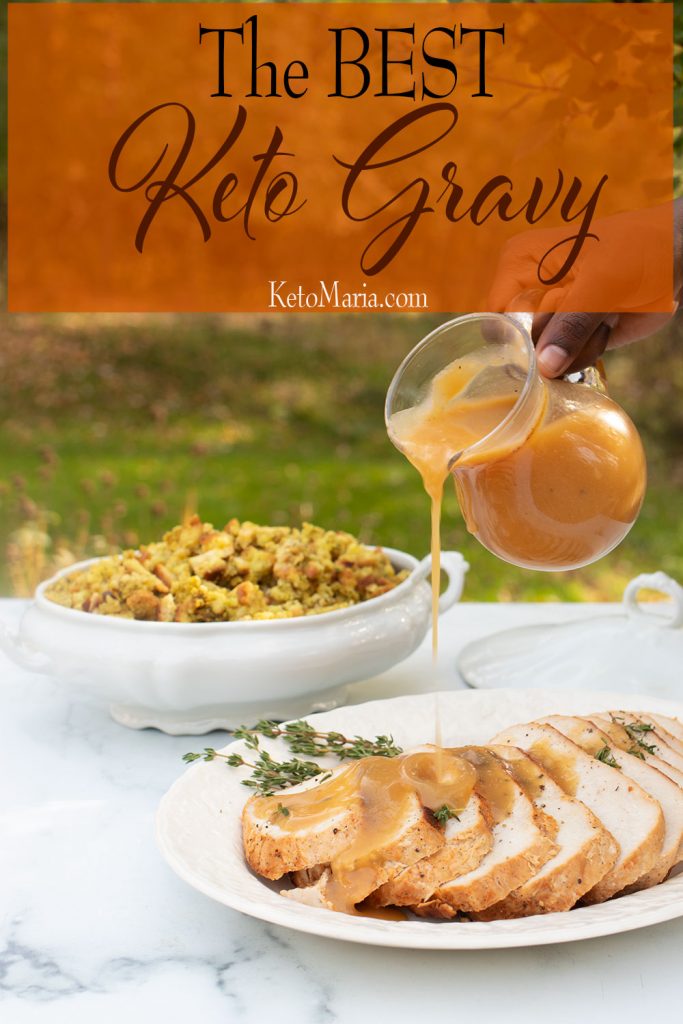 What makes this recipe the BEST Keto Gravy?
The brown butter! Yes! Brown butter gravy is the best!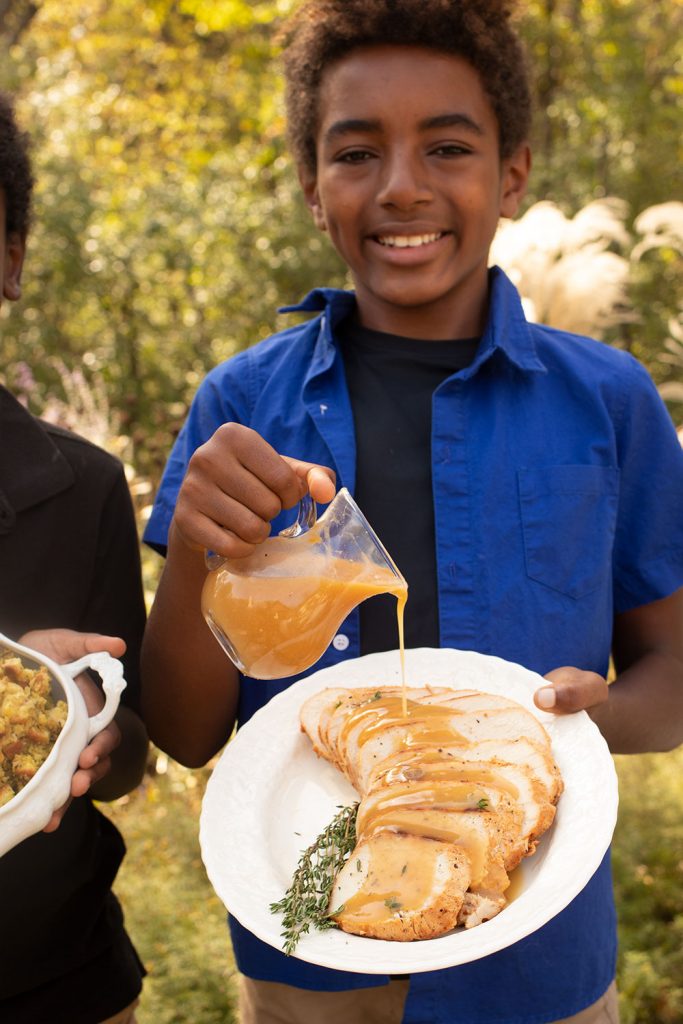 I also feel it is the best keto gravy because it is made without cornstarch or fiber for a thickener! Which makes it the healthiest gravy too!
It is a gelatin gravy and it is perfect to serve when you make a whole turkey for Thanksgiving or Christmas!
If you want to make this with a single turkey breast, feel free! Just use the modified ingredient size!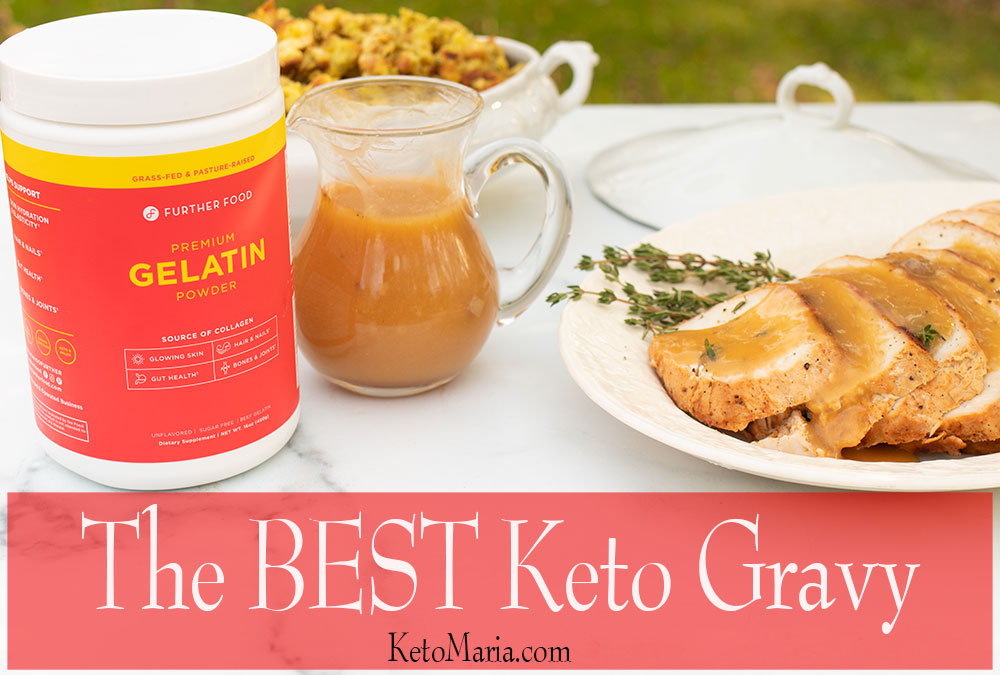 When making my delicious gelatin gravy, I only use Further Foods gelatin. Further Food products are not only filled with top quality ingredients, they are also delicious!
I love that I can easily open a tub of Further Food gelatin and use it to make the best keto gravy in an instant!
Further Foods is SO generous that they are doing a special discount for all of my readers!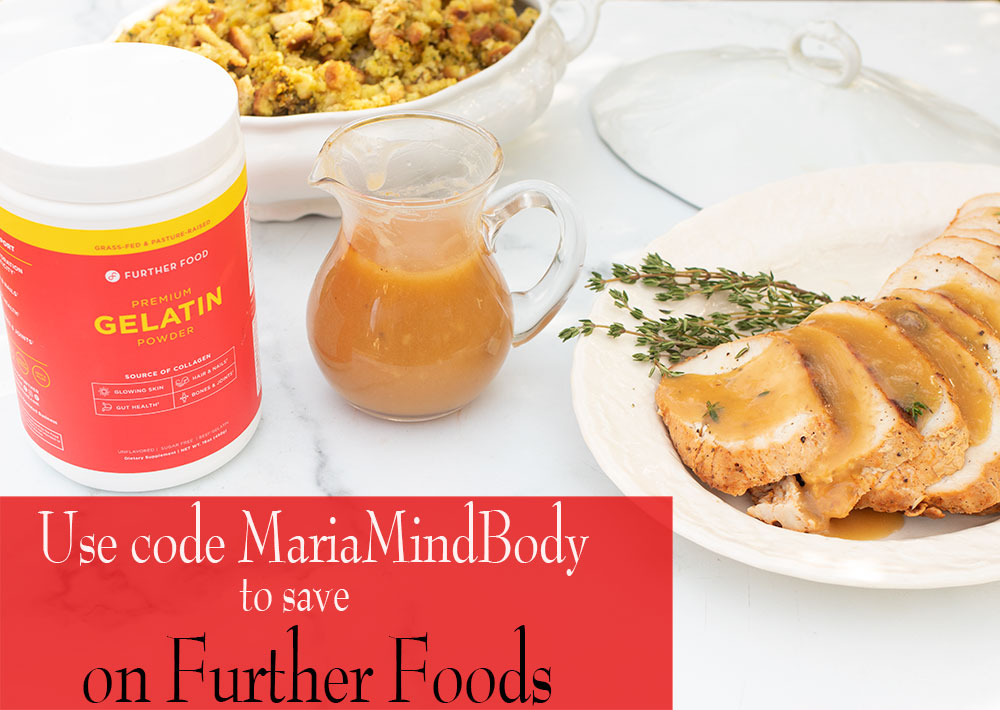 The Best Keto Gravy
Remove the turkey from the roasting pan (or slow cooker for a turkey breast), pour the contents through the fine mesh sieve over a bowl, so that the drippings end up in the bowl. Discard the solids.
In a small bowl, place 1 cup cold broth Sprinkle the gelatin powder over the broth. Set aside to dissolve.
In a medium saucepan over medium high heat, melt the butter until it sizzles and froths up. Whisk often while brown flecks appear. Remove from heat. Add the rest of the broth and turkey drippings to the pan. Bring to a boil, then simmer for about 20 minutes, until the gravy has reduced by half.
Add the dissolved gelatin into the pan, whisking constantly, until dissolved.
Allow the gravy to cool a little so it isn't piping hot; it thickens as it cools. If a film forms on the top, whisk the mixture. Use a immersion blender (or a regular blender) and puree to combine well.
Place in a gravy boat and serve with Thanksgiving dinner!
Store extras in an airtight container in the fridge (it will gel up a lot). Reheat in a saucepan over medium heat until pourable and warm.
Nutritional Information:
92 calories, 8g fat, 6g protein, 0g carbs, 0g fiber
3.4.3177
"I'm super excited! As of today, I've officially cut my body weight in half. I started at 262.4 on Jan 30, 2020. Today I weighed at 131.0 My goal is 130 but if I lose a little more after that, I won't be sad.
Picture is from two weeks ago when I was heading to see Blake Shelton in concert. This has been a long journey and it'll keep going forever. Keto is the only thing I've ever found that truly feels sustainable. If you're new to this or struggling, just keep going. Don't give up. Work the program. Listen to Craig and Maria Emmerich. They know their stuff.
The last almost two years of my life have been amazing and I've changed so much spiritually, mentally and physically. I truly believe if I can do this, anyone can.
Thank you so much to Craig and Maria for all you do to help others!" – Leecia
Most people I consult are doing keto totally wrong. Get fast results with the my Mind-blowing Keto School!